BECOME A YOGA ALLIANCE CERTIFIED YOGA TEACHER IN 6 WEEKS
Next available course: 16 January - 24 February 2017
Love life, live yoga: turn YOUR passion into a fulfilling heart-centred career as a teacher or even start running your OWN yoga studio.
About the course
Full immersion program that spans 6 weeks, living in a yogic community on an eco farm between Byron Bay and the Gold Coast.

Nourish your soul with Yoga Teacher Training that addresses the science of yoga holistically including postures and philosophy as well as Ayurveda, Kirtan, anatomy and physiology, nutrition, meditation and mindfulness.

Teach classes with REAL students while being guided and supported by a team of internationally experienced yoga teacher trainers.

Gain Yoga Alliance international certification and hands on business training to run your own heart centred yoga business – we even show you how to get clients!
The Krishna Village can host up to 70 people in a combination of rooms, dorms and camping spots. There are usually around 30 full time volunteers who work in our organic gardens and maintain the grounds, 15-25 retreat guests or Karma Yogis and up to 20 yoga teacher trainees.
All rooms have shared amenities. The amenities block includes showers, toilets and a coin operated laundry (byo laundry powder).

Common areas include the kitchen & campfire area (the heart of the Krishna Village), the reading room (with Internet hotspot) and the yoga hall where we gather for classes.
Single & double rooms
The Krishna Village has 6 double and 11 single rooms. They are all set in former shipping containers that have been renovated and turned into simple but comfortable accommodation. Most rooms are equipped with bunk beds, bedding is being provided.
4-share dorms
We offer a female and a male dorm - each for up to 4 people - and one 3-share dorm. The dorms have bunk beds and wardrobe space for your belongings, and bedding is provided.
Camp ground
Set among beautiful mango and lychee trees in our eastern garden, our camp ground can host up to 20 tents and 5 camper vans. The area for the vans is equipped with electricity. The amenities block is only 50m away.
Healthy Food
At the Krishna Village a healthy vegetarian diet is one of our main focal points. One way of achieving this is to fuel our bodies with the best possible nutrients. The Krishna Farm has been producing organic veggies since the 1980s and has therefore fantastic conditions to grow excellent produce.
While on the course you will have 3 delicious vegetarian meals provided every day, with breakfast and lunch raw food options.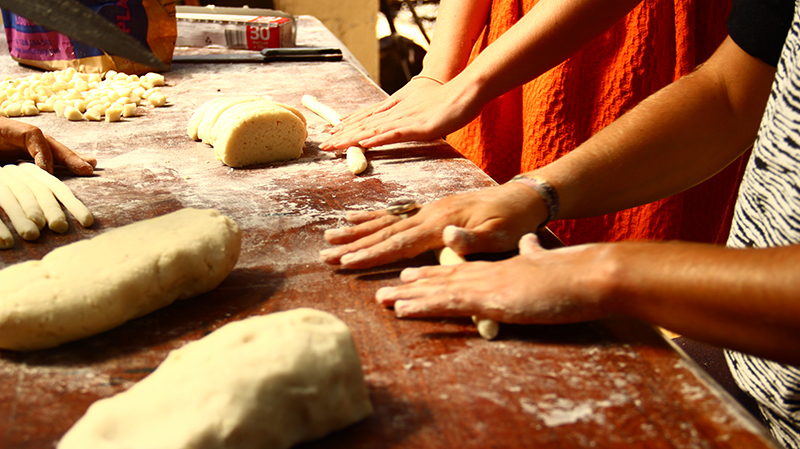 The Krishna Farm
Nestled in the foothills of Mount Warning, in the heart of the Northern Rivers of New South Wales, the Krishna Farm "New Govardhana" is a 1000 acre certified organic property with orchards, veggie gardens, cows, horses, streams and swimming holes in abundance.

From the moment when you cross the rustic wooden bridge over the Oxley River and pass through the beckoning avenue of trees which comprises the entrance to the farm, you will notice that this Vedic Yoga Sanctuary is a special place and that your soul finds peace and a sense of coming home.

New Govardhana serves as an ashram to a community of yogis who aspire to live according to their deepest vows and commitments on their path of service, spiritual contentment and happiness (Bhakti Yoga). Their service and dedication make this location a beautiful place of growth, healing and spiritual awakening.
Cost & payment
The cost of the course including 3 meals/day and accommodation for 6 weeks is:
Camping: AU$ 3295 - early bird rate: AU$ 2995
Dorm (4-share): AU$3695 (depends on availability) - early bird rate: AU$ 3395
In twin share accommodation: AU$ 5195 - early bird rate: AU$ 4895
In a single room: AU$ 5795 - early bird rate: AU$ 5495
Payment plans are available (initial 20% non-refundable down payment + paying it off in monthly instalments). No refunds, but option to attend a later course (min notice 1 week in advance).
Not from Australia? Figure out your rate with the XE currency converter.
Online bookings coming soon! Please visit "Contact us" page to book
Save AU$300 if you book early bird rate
Start in 2017: 16 January - 24 February
Other Dates
16 January - 24 February 2017 (early bird rate until 16 November)

6 March - 14 April 2017 (early bird rate until 23 January)

1 May - 9 June 2017 (early bird rate until 13 March)
Course Schedule
5:00am - Sunrise Yoga & Meditation
6:15am - Yoga anatomy and physiology
8:15am - Breakfast
9:15am - Practise teaching and postures
11:30am - 30 mins break
12:00pm - Life Coaching (leadership & business)
1:15pm - Raw food lunch, then free time
5:00pm - Sunset Vinyasa Yoga
7:00pm - Dinner
9:00pm - Quiet time
We are Yoga Alliance Accredited!