LEARN TO APPLY AND TEACH THE ANCIENT CHINESE SYSTEM OF ELEMENTS
Course date: 17-18 September 2016
Increase your body awareness and learn to relax - for physical and emotional balance.
About Secret Elements Qi Gong
Secret Elements Qi Gong is a Qi Gong, Self-Balance & Therapy method developed by international teacher Sascha Wagener and well-known German Kinesiologist Martin Nienhaus. It connects the ancient knowledge of Chinese Qi Gong & medicine with modern research from Kinesiology and Psychology. As a compact self-help tool it empowers people to balance their physical and emotional state and actively take their health and happiness in their own hands. Now taught around the world it enriches the toolbox of many therapists, Yoga teachers & people interested in their own holistic health preservation.
Learn more on: www.secret-elements-qigong.com
Level 1 Teacher Training
The basic teacher education deals with the 5 fundamental Secret Elements Qi Gong exercise sets. You will learn to conduct Qi Gong classes and correctly execute the movements as well as facilitate visualisations and additional exercises. After the seminar you can use the Qi Gong for your own self healing and balancing or to teach group courses.
The Krishna Village can host up to 60 people in a combination of rooms, dorms and camping spots. There are usually around 25 full time volunteers who work in our organic gardens and maintain the grounds, 20 Yoga Teacher trainees, 10 long term community members and 15-25 retreat guests or Karma Yogis.
All rooms have shared amenities. The amenities block includes showers, toilets and a coin operated laundry (byo laundry powder).

Common areas include the kitchen & campfire area (the heart of the Krishna Village), the reading room (with Internet hotspot) and the yoga hall where we gather for classes.
Single & double rooms
The Krishna Village has 6 double and 11 single rooms. They are all set in former shipping containers that have been renovated and turned into simple but comfortable accommodation. Most rooms are equipped with bunk beds, bedding is being provided.
Camp ground
Set among beautiful mango and lychee trees in our eastern garden, our camp ground can host up to 20 tents and 5 camper vans. The area for the vans is equipped with electricity. The amenities block is only 50m away.
Healthy Food
At the Krishna Village a healthy vegetarian diet is one of our main focal points. One way of achieving this is to fuel our bodies with the best possible nutrients. The Krishna Farm has been producing organic veggies since the 1980s and has therefore fantastic conditions to grow excellent produce.
While staying with us, you will have 3 delicious vegetarian meals provided every day, with breakfast and lunch raw food options.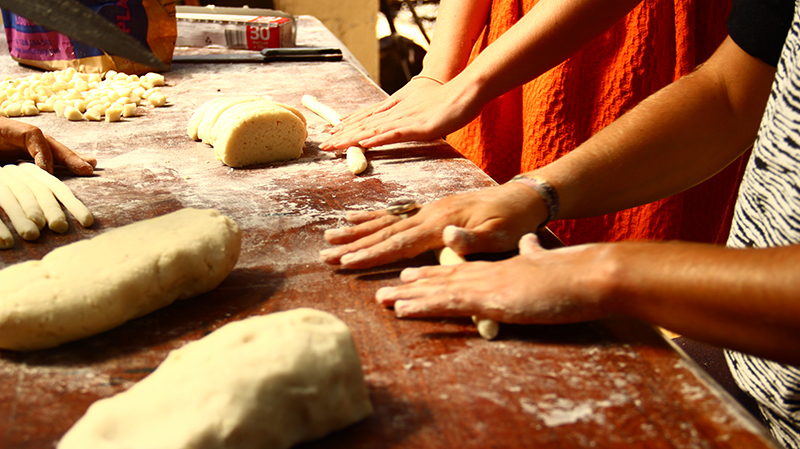 The Krishna Farm
Nestled in the foothills of Mount Warning, in the heart of the Northern Rivers of New South Wales, the Krishna Farm "New Govardhana" is a 1000 acre certified organic property with orchards, veggie gardens, cows, horses, streams and swimming holes in abundance.

From the moment when you cross the rustic wooden bridge over the Oxley River and pass through the beckoning avenue of trees which comprises the entrance to the farm, you will notice that this Vedic Yoga Sanctuary is a special place and that your soul finds peace and a sense of coming home.

New Govardhana serves as an ashram to a community of yogis who aspire to live according to their deepest vows and commitments on their path of service, spiritual contentment and happiness (Bhakti Yoga). Their service and dedication make this location a beautiful place of growth, healing and spiritual awakening.
Cost & payment
Option A - Qi Gong training weekend only
The cost of the course including 3 meals/day and accommodation for 2 nights is:
Volunteer special: AU$ 450 - early bird rate: AU$ 399
Camping: AU$ 520 - early bird rate: AU$ 469
In twin share accommodation: AU$ 540 - early bird rate: AU$489
In a single room: AU$ 580 - early bird rate: AU$ 529
Option B - Full week yoga retreat & Qi Gong training
Retreat + course including 3 meals/day and accommodation for 7 nights:
Camping: AU$ 670 - early bird rate: AU$ 619
In twin share accommodation: AU$ 740 - early bird rate: AU$689
In a single room: AU$ 830 - early bird rate: AU$ 779
Please note that there are no refunds, but option to attend a different/later course (min notice 1 week in advance).
Early bird rate before 30 August
Course date: 17-18 September
Course Schedule
5:00am - Sunrise Yoga & Meditation
6:15am - Yoga anatomy and physiology
8:15am - Breakfast
9:15am - Practise teaching and postures
11:30am - 30 mins break
12:00pm - Life Coaching (leadership & business)
1:15pm - Raw food lunch, then free time
5:00pm - Sunset Vinyasa Yoga
7:00pm - Dinner
9:00pm - Quiet time
Sascha Wagener
Having trained in martial arts from his childhood on, Sascha started to travel Asia to deepen his knowledge. He trained in various places, monasteries and temples, to widen his perspective of different health methods and explore lost wisdom and traditional techniques. Based on this, he creates training programs and concepts for private and business applications. In his hometown Dortmund in Germany he founded the martial arts, health and Asia center 'Mein Tempel' (my temple) and is a founding member of the international 'Missing Link' martial arts community. Find out more about Sascha's travels: www.no-journeys-end.com