Transform your relationship to your voice and create a breakthrough in the way you speak and sing
Course date: 06-08 January 2017
<<< Early bird rates end on 12 December >>>
About the "Power of Voice" retreat
The Power of Voice retreats are based upon the ancient practices of Nada (sound) Yoga. They teach us how to breathe, think, hear, speak and sing from a place of conscious union of mind, body and spirit. Through the practice of yoga and meditation we become clear, calm and focused.
To connect to your voice from a soulful place and let it shine, we will practice energy release movement, deep breath work, mind-body connection activities, explore the power of intention and visualisation, learn about the power of sound vibration and the nature of our soul, and join our voices in celebration of union with the divine.
Free your body, express yourself and make your heart sing!
The Krishna Village can host up to 60 people in a combination of rooms, dorms and camping spots. There are usually around 30 Volunteers who work in our organic gardens and maintain the grounds, 20 Yoga Teacher Trainees, 10 long term community members and 15-25 Retreat Guests or Karma Yogis.
All rooms have shared amenities. The amenities block includes showers, toilets and a coin operated laundry (byo laundry powder).

Common areas include the kitchen & campfire area (the heart of the Krishna Village), the reading room (with Internet hotspot) and the yoga hall where we gather for classes.
Single & double rooms
The Krishna Village has 6 double and 11 single rooms. They are all set in former shipping containers that have been renovated and turned into simple but comfortable accommodation. Most rooms are equipped with bunk beds, bedding is being provided.
Camp ground
Set among beautiful mango and lychee trees in our eastern garden, our camp ground can host up to 20 tents and 5 camper vans. The area for the vans is equipped with electricity. The amenities block is only 50m away.
Delicious Vegetarian Food
At the Krishna Village a healthy vegetarian diet is one of our main focal points. One way of achieving this is to fuel our bodies with the best possible nutrients. The Krishna Farm has been producing organic veggies since the 1980s and has therefore fantastic conditions to grow excellent produce.
While staying with us, we provide 3 delicious vegetarian meals every day, with breakfast and lunch raw food options.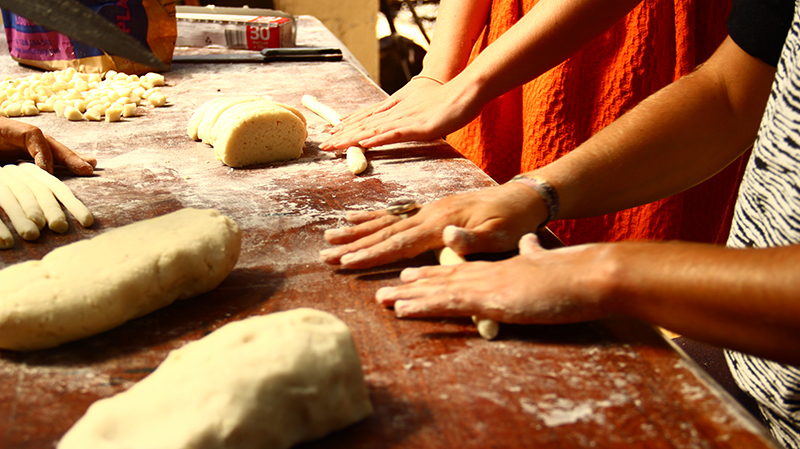 The Krishna Farm
Nestled in the foothills of Mount Warning, in the heart of the Northern Rivers of New South Wales, the Krishna Farm "New Govardhana" is a 1000 acre certified organic property with orchards, veggie gardens, cows, horses, streams and swimming holes in abundance.

New Govardhana serves as an ashram to a community of yogis who aspire to live according to their deepest vows and commitments on their path of service, spiritual contentment and happiness (Bhakti Yoga). Their service and dedication make this location a beautiful place of growth, healing and spiritual awakening. If you are interested, please come along and visit our beautiful Radha Govardhandhari temple.
Cost & payment
Early bird rates apply until 12 December 2016
Option A - Power of Voice weekend only
The cost of the course including 3 meals/day and accommodation for 2 nights is:
Day guest (no accommodation): AU$ 465 - early bird rate: AU$ 430
Camping: AU$ 525 - early bird rate: AU$ 490
In twin share accommodation: AU$ 645 - early bird rate: AU$ 610
In a single room: AU$ 690 - early bird rate: AU$ 655
Option B - Full week yoga retreat & Power of Voice weekend
Retreat + course including 3 meals/day and accommodation for 7 nights:
Camping: AU$ 870 - early bird rate: AU$ 770
In twin share accommodation: AU$ 985 - early bird rate: AU$ 885
In a single room: AU$ 1185 - early bird rate: AU$ 1085
Please note that there are no refunds, but option to attend a different/later course (min notice 1 week in advance).
Testimonials
"This discovery is liberating!
Carmella's workshop gave me a taste for singing for the soul and I definitely want more"
Sunday Telegraph 'Body and Soul'
"As a yoga teacher the ability to convey information in the appropriate tone and expression is paramount. The articulation of each pose is of the utmost importance to ensure the safety of each client. Six months ago I had a very bad case of Hashimoto's, an auto immune disease which left me exhausted and literally tongue-tied. I began to see Carmella weekly, for voice therapy sessions and straight away my ability to eloquently deliver a class returned with new focus and vigour. Under Carmella's careful guidance, I have never gone back to that tired and helpless place. I connected with my voice and inner expression on a whole new level, allowing me access to a deeper reserve of energy, and to function with vitality. I can't thank Carmella enough for the positive impact her intuition and instruction has had on my life and career."
- Lisa Shea, Ki Yoga Instructor
Carmella Baynie has been working with our Yoga's teacher training program for the past four years, teaching voice to our trainees. Carmella's vast experience as a yoga teacher, voice coach andprofessional singer, culminates in a profoundly inspirational seminar that allows participants to free their voices through a series of practical exercises. Her compassion as a teacher allows students to work through any physical or emotional blockages that hold them back from experiencing the power of their voices and their own self expression. By attending these workshops our students have expressed feelings of empowerment, clarity and freedom.
- Nicole Walsh, Director, In Yoga
"In 2007 PACT Theatre invited Carmella Baynie to facilitate a singing workshop as part of the PACT Erskineville Performance Festival, which ran over 4 days. Carmella introduced the participants to an exciting range of vocal challenges; the workshop culminated in an impromptu singing presentation on the streets of Erskineville, to delighted passersby. Following the success of the Festival workshop, PACT invited Carmella to lead the vocal classes for the 2008 imPACT Training Ensemble, an 8month skills development course with 20 performance makers between 18 and 26 years. Carmella presented a thorough vocal training program to the group, from vocal exercises to complex harmony group work. Carmella taught the Ensemble with unfailing generosity and dynamism; their beautiful, precise singing in the final performance was a testament to her work."
– Chris Murphy, Associate Director PACT Theatre
Retreat date: 06-08 January
Meet the Teacher
Carmella Gitanjali Baynie
Carmella is an accredited voice and yoga teacher with 30 years professional experience in the practise of yoga, voice, drama, martial arts and singing. She has been a long-time student of the dramatic arts, from the Marion Street Theatre, the Australian Theatre for Young People, to The Drama Studio and the Actors Centre. Now an internationally acclaimed sacred music singer, Carmella appeared on television and radio in Australia, NZ, South East Asia and Japan as a writer and performer of popular music.
Carmella is an award winning songwriter and completed AmusA with a 12-year study of classical singing. She is a highly sought after facilitator on the international platform and has the passion, skills and experience to prepare students of all standards.
As a facilitator, Carmella shows dedication and commitment to the art of expression, communication and joy of presentation and performance, to the accuracy of technique, to the care and preservation of the voice both in speech and in song, to the pursuit of personal excellence. She is able to inspire clients of all standards to reach their potential.
Retreat Schedule
Friday
Arrival as convenient
2:00pm - 3pm
Lunch
5:00pm - 6:30pm
Afternoon yoga
7:00pm - 7:45pm
Dinner
8:00pm - 9:30pm
Introduction, voice breakthrough session, intention setting & gentle mantra meditation
Saturday
6:30am - 7:30am
Yoga session with live music
8:30am - 9:30am
Breakfast
10:00am - 12:30pm
Breath connection and sound release
12:30pm - 1:30pm
Lunch
1:45pm - 3:00pm
The Speech Sessions: Power, Presence and Articulation
3:00pm - 5:00pm
The Singing Sessions: You are born to sing
5:00pm - 6:30pm
Vinyasa Yoga
7:00pm - 8:00pm
Dinner
8:00pm - 9:00pm
Performance preparations (supervised with individual feedback)
Sunday
5:00am - 6:00am
Gentle Vinyasa Yoga
6:30am - 8:30am
The Sacred Voice Sessions: Nada Yoga, Chakra singing, Sound meditation
8:30am - 9:30am
Breakfast
10:00am - 12:30pm
Performance preparation
12:30pm - 1:00am
Kirtan with guests
1:00pm - 2:00pm
Presentations I
2:00pm - 3:00pm
Lunch
3:00pm - 5:00pm
Presentations II
5:00pm - 6:00pm
Closing circle
6:00pm - 7:30pm
Sunday feast at the temple (optional)
Tune into your brilliance - you were born to sing!