Ancient wisdom for modern living
Next course: 12-14 October 2018
About our Super Soul Seminars
Super Soul Seminars are events of super-enrichment and lasting transformation. They are primarily based on the timeless wisdom of yogic philosophy which continues to speak to the human mind and heart through the ages. Though uncommon, this embodied wisdom is presented to you with a careful blend of reliable social science in the most 'relatable' and relevant way complete with cutting-edge practical application. Whether you are wanting the universal keys to successful relationships, expanding influence, altering attraction, authentic leadership, emotions management or seek to unleash your true nature, all these topics are carefully unpacked from their 5000 year old Sanskrit codes for you to take full advantage and apply them to our 21st century reality.
To see if the Krishna Village retreat experience is for you, read our FAQ for Retreat Guests and have a look at our Code of Conduct. If you are dealing with any physical or mental health issues, please also check our Are you ready page to make sure this is a suitable course for you.
Making Life Count
"Live as if you were to die tomorrow. Learn as if you were to live forever."
- Mahatma Gandhi
Throughout their lifetime, the average person spends 25 years sleeping, 12 years working, 12 years viewing laptop & smartphone screens, 6 years watching television and 6 months looking for lost items. Life is a moment-to-moment affair - so now that we are busier than ever before, how do we make the most of our time?
It has been scientifically proven that raising our spiritual consciousness slows the effects of time for us. This motivational and spiritual retreat will leave you feeling enthusiastic to set inspiring, aligned goals and achieve them. You will be exposed to the refreshing, timeless power principles of yogic science.
Course content
Look forward to rich discussions, interweaved with interactive exercises and an abundance of modern and ancient knowledge. Michael will guide you through the weekend and facilitate classes and group exercises, while also being available for 1:1 chats as much as possible.
Re-assess your goals and find new inspiration
Adjust your focus to overcome challenges
Tap into your motivation to defeat procrastination
Learn easy-to-use time management techniques for your career and private life
Elevate your consciousness and alter the effects of time through applying ancient spiritual techniques
Timeless mantras for a timeless life
Located between Byron Bay and the Gold Coast, the Krishna Village can host up to 75 people in a combination of rooms, dorms and camping spots. There are usually around 25 full time volunteers who work in our organic gardens and maintain the grounds, 10 long term community members and 25-35 retreat guests.
All rooms have shared amenities. The amenities block includes showers, toilets and a coin operated laundry (byo laundry powder).

Common areas include the kitchen & campfire area (the heart of the Krishna Village), the reading room (with Internet hotspot) and the yoga hall where we gather for classes.
Single & double rooms
The Krishna Village has 3 double, 5 twin share and 8 single rooms. They are all set in former shipping containers that have been renovated and turned into simple but comfortable accommodation. Most rooms are equipped with bunk beds, bedding is being provided.
Camp ground
Set among beautiful mango and lychee trees in our eastern garden, our camp ground can host up to 20 tents and 5 camper vans. The area for the vans is equipped with electricity. The amenities block is only 50m away.
Delicious Vegetarian Food
The Krishna Farm has been producing organic veggies since the 1980s and has therefore fantastic conditions to grow excellent produce. We grow as much of our own food as we can, and otherwise buy locally wherever possible.
We provide 3 delicious vegetarian meals every day, with lunches taking place at the Krishna Village community kitchen, and breakfast and dinners - mostly Indian style - served at the prasadam hall, next to the temple.
All our food is prasadam - sacred food prepared in a consciousness of loving service. Like in other cultures, we offer our food before we eat to say Grace and thank the Divine for the sun, the rain, and all the visible and invisible blessings necessary to co-create a delicious meal. Feel free to sing along with us, or just listen and enjoy...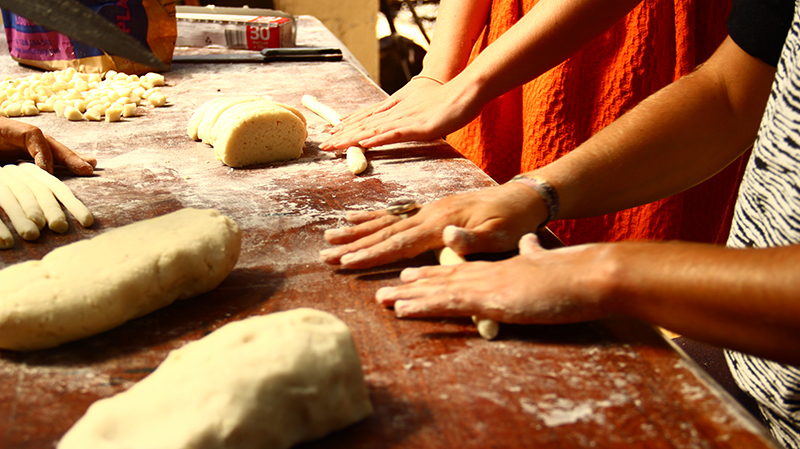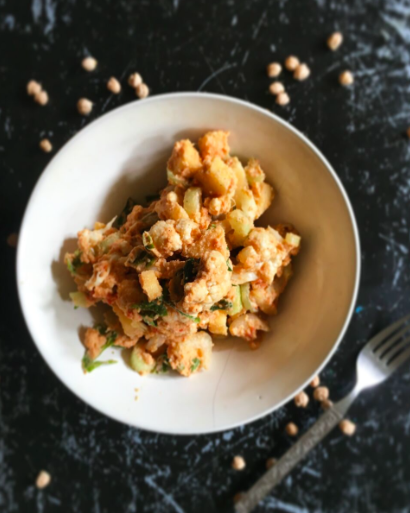 The Krishna Farm
Nestled in the foothills of Mount Warning, in the heart of the Northern Rivers of New South Wales, the Hare Krishna farm "New Govardhana" is a 1000 acre property with orchards, certified organicveggie gardens, cows, horses, streams and swimming holes in abundance.

New Govardhana serves as an ashram to a community of yogis who aspire to live according to their deepest vows and commitments on their path of service, spiritual contentment and happiness, Bhakti Yoga.Their service and dedication make this location a beautiful place of growth, healing and spiritual awakening. If you are interested, please come along and visit our beautiful Radha Govardhandhari temple and learn ore about the origins or our "simple giving, high thinking" philosophy.
Cost & payment
Option A - "Making life count" weekend retreat only
The cost of the course including 3 meals/day and accommodation for 2 nights is:
Without accommodation: AU$ 299
Camping: AU$ 399
In twin share or double accommodation: AU$ 479
In a single room: AU$ 519
Option B - extended stay: "Making life count" weekend + yoga retreat
Yoga week + weekend workshop incl 3 meals/day and accommodation for 7 nights:
Camping: AU$ 619
In twin share or double accommodation: AU$ 749
In a single room: AU$ 919
Before you book, please read our terms and conditions including our refund policy. Payment has to be received in full upon booking.
The course starts on Friday at 7pm and finishes on Sunday around 6pm. Your accommodation will be booked until Sunday morning, checkout is at 9:30am (unless you are staying for the whole week). Included are all meals from lunch on Friday at 2pm until the Sunday feast dinner at 6pm.
Testimonials
"Desire to further explore"
"Michael is an intelligent, engaging, inspiring presenter whose depth of knowledge and wisdom belies his years. I found the experience informative and insightful and left me with the desire to further explore and research these areas.
Michael communicates clearly, listens effectively and is able to explain concepts simply. His talks are stimulating and delivered with enthusiasm and a sense of humour. Michael is endearing to people of all ages and is a positive role model to all to live a healthy, spiritual life. (...) I would recommend Michael's talks to any audience seeking personal development and spiritual growth.
- Jill Sullivan, retreat guest
"Authentic concern for spiritual progress"
"I approached Michael because he expressed authentic concern for my spiritual progress in a non-judgemental manner. Michael helped me by enabling metacognition or self-awareness of my thoughts. As a result of the workshop, I was able to determine factors that hold me back from experiencing happiness. During the workshop, Michael created an atmosphere of security and trust and, consequently, we participants felt comfortable asking questions and sharing realisations.
[Michael's] workshop not only answered questions but also encouraged me to inquire further into spirituality and my personal spiritual progress. I recommend Michael as he exudes genuine interest in others' self-development. Also, he liberally shares wisdom from a broad range of spiritual texts such as the Vedas, the Bhagavad Gita and the Srimad Bhagavatam, to name a few, in a practical and simple way."
- Sri Sundari dasi (Surbhi Raj Kumari)
Retreat Schedule
Friday
10:00am - 2:30pm - Arrival and settling in
3:00pm - Welcome Tour
4:00pm - Yoga class
6:00pm - Pizza night (optional) or regular dinner
7:00pm - Welcome Circle with Michael
Saturday
6:30am - Sunrise Yoga
8:30am - Breakfast
9:30am - Interactive morning session with Michael
12:30pm - Lunch
1:30pm - Interactive afternoon session with Michael
4:00pm - Sunset yoga
6:00pm - Dinner
Sunday
5:00am - Sunrise Yoga
8:30am - Breakfast
9:30am - Interactive Morning session with Michael
12:30pm - Lunch
1:30pm - Kirtan and Yogic Living class (optional)
3:00pm - Interactive afternoon session with Michael
4:45pm - Wrap up
5:00pm - Sunday Feast
Michael Olabode
Our philosophy teacher Michael is simply born to teach and has a knack for presenting age old yogic philosophy in a way that makes it easy and fun to learn, and incredibly relevant to modern life.
Michael is a student by morn, teacher by noon and writer by night. At 17, while studying Maths, Physics and Business, he was noticed by Young Enterprise after joint-founding a company that personalised gifts in London, which went on to win a Future100 award for ethical and environmentally-friendly business. He came across the spiritual path of Bhakti-yoga in university and after graduating in Business from Cass Business School and landing a job in an international bank, he decided to explore the wisdom of yoga further. Having been to India 9 times over the past 6 years to study and explore the secrets of Indic wisdom texts like the Bhagavad-Gita, he was invited to teach philosophy and host interactive life seminars in universities and institutions in places like the UK, Belgium, Netherlands, Nigeria, Ghana, India, Australia and New Zealand since 2010.
Outside of teaching Michael enjoys travelling, cycling, playing football, volleyball, basketball, rapping, advising, problem-solving and challenges anyone on earth at table tennis.